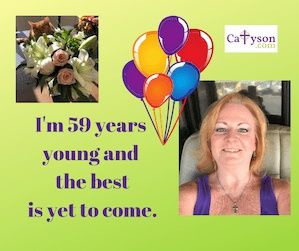 Today I turned 59 and I am feeling more blessed than I can say. It's been one heck of a ride so far, and I believe the best is yet to come. I owe everything I have and everything I am to God. He's always been there for me, even when I didn't know it and wasn't giving Him the time of day. He always had wonderful plans for my life.
Psalm 139:13 - You made all of the delicate inner parts of my body, and knit me together in my mother's womb.
I invited Jesus to live in my heart at the tender age of nine. I knew I needed Him as my personal Lord and Savior. It was in a small Baptist church in Santa Clara, California. I was baptized there too. I hadn't exactly been enjoying a Beaver Cleaver life up to that point. Far from it. God had already seen me through much more than a young girl should have experienced by that age.
Mom was the single parent of four children. She always took us to church and instilled a moral fiber into our beings that I will be eternally grateful for. Sadly, like so many Christians, her lifestyle contradicted what was being preached to us in church, in some profound ways. We all have our baggage and mom's resulted in her making bad choices with men. Satan told her the lie that she was less of a person if she didn't have a man in her life and she believed him. By the time I asked Jesus into my heart, I'd been deserted by my biological father, lived through some horrid situations with my abusive first step-father, witnessed at least two serious heartbreaks in my mother's life, and was on the verge of experiencing another very unhealthy lifestyle with a second step-father. My mother's choices affected me in many ways, including many she was completely unaware of.
When a young girl is deserted by her father, it inflicts a wound to her soul. The natural human response is to ask, "What is wrong with me that keeps my dad from loving me?" To add insult to this soul injury, when I was four I was taken to a doctor for a sore throat and instead of going to my regular doctor, I was taken to one suggested by my father's insurance company. The evil doctor asked my great-aunt, who knew no better, to step outside and wait while he examined me. He inflicted atrocities on my tiny little body that left more soul wounds. I was molested again by my step-father's brother when I was six years old, more soul wounds.
Atheists and many agnostics like to exalt, "If there is a God, why does He let bad things happen to the innocent?" The answer is simple. God gave man free will. If He didn't let anything bad happen he wouldn't have a world full of people after His own heart, He'd have a world of puppets. He didn't create puppets, He created people. So bad peoples choices affect good and innocent people. But He is always there to help us get through the bad things that happen to us. Let me share some favorite scriptures that attest to that.
Psalm 147:3 - He heals the brokenhearted and binds up their wounds.
Psalm 34:18 - The LORD is close to the brokenhearted and saves those who are crushed in spirit.
Revelation 21:4 - He will wipe every tear from their eyes. There will be no more death' or mourning or crying or pain, for the old order of things has passed away."
And my personal favorite: Jeremiah 29:11 - For I know the plans I have for you," declares the LORD, "plans to prosper you and not to harm you, plans to give you hope and a future.
I have been through a lot in my life, and God has helped me through it all. His protection continued when I turned my back on Him and didn't give Him a second thought. When I was nineteen, His guardian angels were with my 28-month-old baby and me in my 68 Mustang when I fell asleep at the wheel and careened through the median on HWY 80 on my way to work in Reno from Kings Beach California. The CHP officer said it was a miracle that I didn't step on the brake because if I had the car would have rolled repeatedly. He told me that everyone's natural reflex would be to step on the brakes and that it made no sense at all that I hadn't.
Allen, who had been laying on the passenger seat sleeping, without a car seat, was tossed to the floor and completely unharmed. Outside of a cut on my forehead from my head hitting the steering wheel and breaking my glasses on my face, I was in relatively good shape. I was taken to the hospital because my heart rate was terribly erratic and they wanted to keep an eye on me. Unbeknownst to me, or the doctors at the time, I had a hereditary heart condition, and the accident had nothing to do with my hearts Premature ventricular contractions. I spent a day in the cardiac care unit, and they let me go home on the promise that I would see a cardiologist right away, which I of course ignored. The genetic heart issue came from my father's side of the family. Thanks again Pops.
There was the time when Allen was four, and I almost left our duplex with a fire smoldering in the trash can in his bedroom. For only a moment I thought I smelled smoke and I asked Allen if he had been playing with matches. He looked me right in the eyes and said no. He had thrown a sleeping bag on top of the garbage can so that I wouldn't smell the smoke. It was right underneath the window curtains. I closed the front door behind us on my way to work, and a very strong urging in my soul said, "Go back and check Allen's room." I went back in and as I pulled the sleeping bag off of the garbage can, flames shot up, just missing the curtains. I was able to douse the fire and save our duplex. I have no doubt that the entire thing would have gone up in flames once the sleeping bag fully caught fire.
As I look back over my 59 years, it would be impossible to count the times that God has intervened for my family and me. He knew the plans He had for me, and they were always even better than my own. Today I'm reflecting, and I'm very excited about the best third of my life that is yet to come. God is going to use me in a mighty way to help others. It was always during the worst times in my life that I have gotten closer to Him. He taught me a lot in every bad situation that I have ever experienced, and now I get to share that knowledge and use those experiences to help others.
2 Corinthians 1:3-4 - Blessed be the God and Father of our Lord Jesus Christ, the Father of mercies and God of all comfort, who comforts us in all our affliction, so that we may be able to comfort those who are in any affliction, with the comfort with which we ourselves are comforted by God.
I am embarking on my new career as a Transformational Coach, and that in itself is a huge miracle. How an emotionally broken girl with a tenth-grade education, pregnant at sixteen, single mother at seventeen, bar owner married to an alcoholic at thirty-four, could use all of those experiences to write and self-publish a memoir at fifty-three and is now a life coach, is mind-blowing.
I sold Johnny's Bar & Grill last March. God blessed me with a great run as it's an owner for over twenty-two years. Tommy and I almost got divorced, and God used that situation to send me back into His loving arms. That led to a major change in me, which led to my husband's sobriety and His newfound relationship with Christ. With God at the center of our marriage, it is stronger than ever. All of this happened while I owned and operated the bar. God used us both in that bar to help more people than I can count. His protection of me, my family and my business has been undeniable by even non-believers. You'll need to read my book Born Again in a Biker Bar if you'd like to hear about so many of those experiences.
I am so filled with gratitude today that I could burst. I am launching my Transforming Hearts for Fresh Starts - Group CoachingExperience in January and kicking off 2019 with a bang. I'll be asking for a little help from my friends to build the best experience product possible so that I can help hundreds, and possibly thousands of people suffering from wounded souls. God is good, all the time. I am honored to be a foot soldier in His army. Suit up yourself if you'd like to join me. If you don't know where to start, sign up for a free thirty-minute coaching session with me and let's start plotting a course.
Thanks for your time. I look forward to seeing you on the internet. God bless, Cat