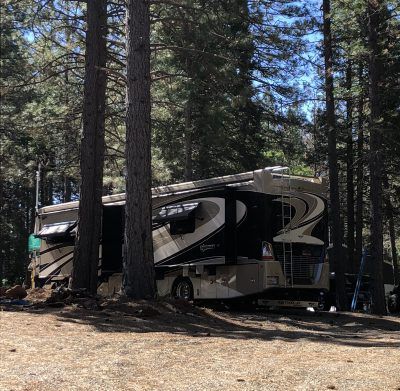 I'm sure I have some friends and cherished Johnny's customers out there that are curious about what I've been doing since leaving ownership of Johnny's Bar & Grill behind me. Some were worried about how I would handle not owning the bar that occupied a majority of my life for more than twenty-two years. I will put your minds at ease and tell you that I am thoroughly enjoying the adventures of my new lease on life.
Anyone that knows me, even as an acquaintance, knows that I am a dedicated and hard worker. Stepping away from the business that defined me for such a long period of time should have been difficult. Everything I've read about selling a business that was a part of your life, for even ten years, suggests a grieving process with lots of adjustments. If God hadn't arranged my exit, I'm sure that would have been true for me.
It would take too long in one post to share the things that happened in the first, and thankfully my last, quarter of 2018. I had no intention of beginning my 23rd year as Johnny's owner. I had planned on going out with a bang on New Year's Eve of 2017. I did a ceremonious handing off of the keys to, Peter Lago, who bought the bar from me, despite the fact that there were many things that still needed to be ironed out. I did it as an act of faith. If I hadn't been through the final quarter from hell, I know I wouldn't have experienced the clean break from Johnny's that God knew I needed to make.
So what am I doing now you may be wondering? God has blessed me to overflowing. He introduced Tommy and me to a wonderful couple while we were at Thousand Trails in Paicines and they have parked their RV at our house and will be staying in our home while we wander the country in our new motorhome. It is a huge and miraculous blessing. We plan on spending a lot of time at our property in Shingletown and will be taking a three-month cross-country trip in our motorhome beginning in August. Knowing that our home will be secure is huge. The outdoor cats and the koi will be taken care of, the yard will be watered and we can rest easy and enjoy our new adventures. I had been praying fervently for the right person to keep an eye on things and this solution could not be more perfect. When I tell you how this came about you will understand how miraculous it is.
We belong to a website called RVilliage. It connects people to each other by letting them know when folks from the club are camping nearby. It's absolutely wonderful. While at Thousand Trails, only twenty-two minutes from Hollister, we met Teresa and Lee. It was a getaway for us no matter how close to home. We went to visit a couple that we hooked up with through the RVilliage. New friends Brian and Kim messaged us and said they were having a little get-together at their campsite and suggested that we stop by.
A little sideline here, as the owner of Johnny's the camaraderie of bikers I witnessed always impressed me. It is no different with RVers. We are kindred spirits and sharing a meal and a bonfire bonds us together the way leathers and fast motorcycles unify bikers. We share the same interests and all have traveling stories to tell.
Teresa and Lee were not members of RVilliage then, but they are now. We hit it off immediately and became fast and furious friends. Lee works for a company that lays pipe for PG&E, so he has to go where work takes him. He is currently working in Watsonville and will be until sometime in November. The closest RV campground that they could get a reservation at was Thousand Trails in Paicines. It is a long commute for Lee. By staying at our place he will save over an hour a day on his commute. He works six days a week, ten hours a day so an hour that he doesn't spend on the road means everything to him and Teresa.
Teresa joined our local YMCA and works out with me. Now she'll be ten minutes away from her workout, as well as everything else that was an hour's drive round trip. Their kitchen sink broke in their RV and the wrong part got delivered, so Teresa could not use her kitchen. Now she has my gorgeous, I'm bragging a little here, kitchen to cook in. Her mother is coming to visit while we're in Shingletown and now she has the spare bedroom to sleep in instead of a pullout couch in the middle of their fifth wheel. They have a beautiful pool to swim in, a relaxing koi pond to enjoy and Lee is driving an hour less every day, six days a week. Talk about a win, win. It just doesn't get any better!
I'm writing this from our property in Shingletown and I couldn't be any happier. As soon as the sale of Johnny's was finalized I wanted to be on the road. I just did not want to be at home. We stayed at Thousand Trails in April and went to Pismo Beach in May. When at home, the time I thought I was supposed to be spending working on my new career as a writer, blogger, and coach, went to yard work and cleaning my house.
Every day I had a plan but somehow it changed. I was going to dump the garbage when I wound up throwing myself into yard work. I slaved away for three days. I did a ton of work on our koi pond and spread eighteen 50-pound bags of mulch. My yard is gorgeous now. I went into my office to pay a bill and wound up reconciling two bank accounts and cleaning off my desk, which it desperately needed. As I was packing for this trip I wound up putting aside a huge pile of clothes for the Goodwill and tidying up my closet. Many times my plan to work on my new career went out of the window.
I'm so grateful to be better at letting go and letting God. I give my day to the Lord in the morning and ask for His wisdom and guidance. I rest in the fact that I'm doing what He wants me to do. My plans are not always His plans and His are always better than mine.
So the simple answer to what am I doing now is, whatever God wants me to do. I'm loving life. I'm so calm now that when I go to the grocery store the checkers comment on how much more relaxed I look since selling the bar. When people ask how I am, my response is always FANTASTIC.
I actually feel very much like I felt when I first bought Johnny's. I was so thrilled to be running my own business. I held on to that enthusiasm for a good stretch, but twenty-two years is a very long time. Johnny's was very good to us and I have no idea what my life would have looked like without it. We met so many wonderful people, developed lifetime friendships, and witnessed many miracles.
God will use you right where you are. He certainly did in our case. We got through some really rough times while I was running the bar. We've used our experience as a recovering alcoholic and a recovering codependent to help many people. We were blessed enough to support many local charities. It was a good life abounding in blessings.
But it was also fraught with difficulties and challenges. And now those are Pete's challenges. God bless him and Johnny's. I hope he gets as much out of the historic bar as its owner as I did. It's doubtful that he'll make it over twenty-two years. Let's face it, folks, that was a major miracle in itself.