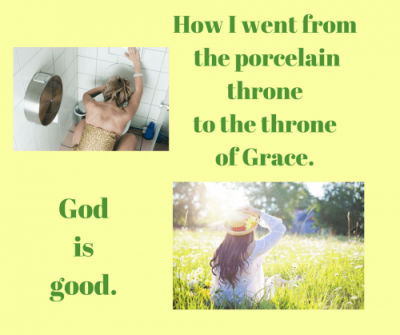 There I was on the floor of the bathroom in the hotel room I was sharing with two of my best friends. The room was spinning so fast that even being on all fours did not slow the nauseating motion. I didn't think I'd had that much to drink. So why was I so wasted and so sick? I didn't know which was worse, my nausea and the spins, or my self-recrimination. I was so angry with myself for being in that condition. To my friends' chagrin, I kept wailing, "I'm so sorry. I'm so, so sorry. I'm so stupid; I can't believe I did this."
We were in Saint Louis Missouri for Christian author and speaker, Joyce Meyer's, 25th annual Women's Conference. It was the sixth time that I attended this fabulous gathering of like-minded women with the goal to bask in God's presence, enjoy uplifting worship music and hear great teachings. I was thrilled to be joined by two of my very best friends. We'd spent two nights and two days filling up our spiritual tanks, we'd witnessed, and been a party to miracles and were amped up on Jesus. So why did I go out drinking?
Celebrating with alcohol had been a huge part of my life. I'd owned and operated a famous biker bar for over eleven years at that time. God had worked some pretty big miracles in my life since my return to His fold in 2002, but I was still a work in progress. My husband had been sober for almost two years; his health had improved dramatically, and our marriage was redeemed and improving all of the time. And here I was, the night the Christian conference ended, lying on the floor of the bathroom drunk and stupid. My pal Jeannie would attest to the stupid part. She debated trying to shake some sense into me after many unsuccessful attempts to get me off of the floor and into bed. She finally prayed that God would not let me drown in my vomit and went to sleep.
Why would I share such a humiliating story about myself? Why would I admit that despite being a Christian, I screwed up, at a Christian conference no less? I want people to understand that God isn't looking for perfection. He isn't waiting for you to be good enough. He loves you just the way you are, no matter how bad you may think that is. He isn't looking for flawless human beings. He's looking for willing hearts that believe that He died on the cross to pay for their sins. He wants you to believe it with all of your heart. He wants you to see yourself as one of his redeemed children. He wants you to know that you are forgiven. As long as we keep telling ourselves that we are not worthy, we can't draw near to His throne of grace.
Hebrews 4:16 speaks clearly to the fact that God wants to show us grace. Let us, therefore, draw near with confidence to the throne of grace, that we may receive mercy and may find grace to help in time of need.
So how does one go from the porcelain throne to the throne of grace? It's a lot easier than you may think. Many people put off entering into a relationship with Christ for one of two reasons. You may either see Him as a tyrant who insists you suffer for your mistakes or you may feel unworthy to approach Him. Neither of those is true.
Let's look at the God that you may see as an angry tyrant. Maybe as a child, you were brought up in a religion that taught you that you were going to hell if you did something bad. It wasn't necessarily how the religion was taught. Your parents may have presented it to you that way to keep you out of trouble. They may have used this scare tactic on you, but then did the very things that they told you-you weren't supposed to do. I know many people, including myself that were brought up with these double standards and they usually result in rebellion.
Witnessing this double standard may have been the very thing that caused you to turn your back on God. I can speak from experience when I say that even after I turned my back on my Lord and Savior, He remained with me and His angels continued to watch over me. When I was drinking and cussing like a sailor without giving it a second thought, I was still protected from many catastrophes. I didn't grasp it back then, but it's as clear as a bell now.
But if we confess our sins to Him, He can be depended on to forgive us and to cleanse us from every wrong. (And it is perfectly proper for God to do this because Christ died to wash away our sins.) 1 John 1:9
So all you need to do for that clean slate is confess your sins to God and ask for His forgiveness. There is no need to be good enough or worthy enough. He forgives you because He wants to. He wants you to be right with Him so that He can have a close relationship with you. He removes your sins as far as the East is from the West. Psalms 103:12
Now let's talk about not feeling worthy of God's love. Maybe you feel like you've done too many bad things to ask for forgiveness. I know when I was lying on that bathroom floor I felt like the scum that scum scrapes off of the bottom of its shoes. Come to find out someone had slipped me something. I was in much worse shape than I should have been for the amount that I had to drink. I held my liquor well. Did I mention that I owned a bar at the time? But I put myself in that position when I went out drinking.
There isn't enough room in a book the size of War and Peace to list the wrong things I've done. Like many molested girls I became promiscuous at a young age. I had my son out of wedlock at the tender age of seventeen. I worked with mostly men as a teamster, and I cussed as much, if not more than they did. For many of the years that I owned Johnny's, getting hammered was no big deal, just another Friday night at the bar. Thankfully my Christian upbringing kept me from lying, cheating and stealing but as far as God is concerned one sin is as bad as the other. For many years of my Christian life, I did not act like one. Thankfully, Jesus does not give up on us.
He forgives all of my sins. He heals me. He ransoms me from hell. He surrounds me with loving kindness and tender mercies. He fills my life with good things! My youth is renewed like the eagles! He gives justice to all who are treated unfairly. Psalms 103:3–6
Those scriptures were written by King David. If you are at all familiar with the Bible you know his story. He slept with Bathsheba and then had her husband murdered to cover up the fact that he had impregnated her. And God forgave him. Much of Psalms is David's plea for forgiveness and requests for God's help to defeat his enemies. And God helped him repeatedly.
So just let me reiterate, there is nothing that you can do, or have done that will keep God from loving you. So why not give Him a try? If you don't know Him as your personal Lord and savior, you only need to ask. Invite Him into your heart and ask Him to cleanse you from all of your sins. Take the clean slate He offers and enjoy a fresh start.
Will you mess up again and need more forgiveness? I can promise you that you will. Will you occasionally feel like pond scum because you let God down? That's pretty much guaranteed too. Will you pick yourself up and try to do better? If Christ is living in you, you won't be able to help it. Christ in you is your hope of glory. Colossians 1:27.
If you are worried that you are too big of a mess or that you have too many issues, let me put your mind at ease. God doesn't give you more than you can handle. He won't ask you to change all of your ways overnight. Once you accept Christ, you are a work in progress.
But we Christians have no veil over our faces; we can be mirrors that brightly reflect the glory of the Lord. And as the Spirit of the Lord works within us, we become more and more like Him. 2 Corinthians 3:18And you know what? The job won't be completed until you meet God in Heaven. He continues to work with you until He takes you home.
Let me share a little about how God worked on me one step at a time. I told you that I cussed like a sailor. When I renewed my commitment to Christ the F-word immediately went out of my vocabulary. Not only could I not say it anymore without wanting to set my tongue on fire, but I couldn't stand to hear anyone else say it either. I started asking customers to watch their language when they used the word. Mind you, it was a bit unsettling for the folks that knew me for years. I'll be honest and tell you that it took awhile for all of the bad language to disappear. We're adults here, so I call tell you that shit, damn and hell were the last to go. I still slip on occasion, but it isn't very often.
As a female bar owner, you can't show weakness. And I managed to become stern without the foul language. But when terrible things happened, and I slipped with an F-bomb, people took notice. "You've made the redhead mad now," they would say. And the beautiful thing is, people stepped into line when they knew I'd had it. Thank you, Jesus, that isn't a problem for me anymore. I sold the bar on April 1st, 2018.
So let's head back to the bathroom floor and consider how it should have gone. I should have thrown up, told God I was sorry, asked for His forgiveness, accepted it, and gone to bed. My friends would have slept better, and I know I would not have felt as awful as I did the next morning. I beat myself up all the way home. It was a very long flight to San Jose, California.
So I'll ask you, do you see God as a tyrant that wants you to pay for your bad behavior? Do you think you've done the unforgivable? Take a load off and give it to Jesus. He gave His life on the cross so that you could be forgiven. He wants you to have a great life. Just invite Him into your life and heart and see the wonderful things that He will do for you.
I'm going to leave you with one of my favorite scriptures from Ephesians 3:20 — Now glory be to God who by His mighty power at work within us is able to do far more than we could even dream of — infinitely beyond our highest prayers, desires, thoughts, or hopes.
God bless, Charisse
Save