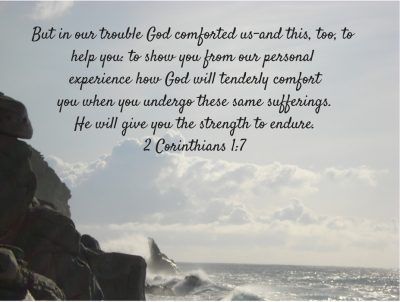 There isn't one person on this planet that hasn't undergone some sort of suffering. And some people seem to get a bit more than their fair share. We all know someone who put their faith in God to solve their problems and change their circumstances but then continued to despair. From our vantage point we don't think it's fair. We may even ask them, "Why doesn't God end your suffering?" For a new believer or a Christian who hasn't embraced growing up in the Lord, this question can be a stumbling block. They have certainly been asking God the same question and when we give voice to it, it amplifies it in their heart and mind.
The answer to the question is found in 2 Corinthians 1:3-7. God will comfort you in your times of trouble so that you can comfort others in theirs. When I was in the middle of my battle with my codependency and my husband was still drinking, there were times when I wondered how long God would allow my suffering to continue. One of my journal entries from early 2005 speaks to my battle. "God, I can't stand the drinking which leads to passing out early, no conversation, and no company at night. Dear Lord, as you have heard me pray many times, please don't let me say anything unless it is your will."
You should understand that I had a real mouth problem. Before my return to Christ and His will, when Tommy and I were in the throws of our massive dysfunction and feeding off of each other's broken and wounded spirits, my mouth was a mighty sword. If you made me angry I would slice you into tiny little pieces with my tirade. I always right went for the jugular. I could pick a person's weak spot and tear right into them. A shudder goes up my spine when I think of the people I wounded with my words. Proverb 18:21 says, "Death and life are in the power of the tongue; and those who love it will eat its fruit." I didn't know when to shut up. I can honestly tell you that if I hadn't heeded God's will and shut my mouth, my life would still be a complete disaster.
I renewed my relationship with Christ in January of 2002 after my husband turned my world upside down with a request for a divorce. With the help of Al-anon, a good sponsor, Joyce Meyer videos and cassettes, and a lot of prayer, I grew in the Lord. God told me in March of 2005 that if I left my husband in His capable hands He would save my marriage and my husbands life. It was a tall order.
Tommy was on the way to drinking himself to death. He put it into prospective for a friend of ours the other day. Besides what my husband drank at our bar and others around town, he consumed a 1.75 liter bottle of booze every day. One day he'd buy vodka at Rite Aid and the next day he'd buy Jack Daniels. One of the gals that worked at the store had Tommy's phone number to call him if Jack Daniels went on sale.
So here I am three years after asking God to save my marriage, still crying out for His help me keep my mouth shut. And you know what, when I finally did, God did a work in my husband. I wasted a couple of years giving lip service to leaving my husband in God's hands before actually doing it. And I reaped the consequences. My husband continued to drink, running charge cards into the thousands for his daily fix. He continued to pass out in a drunken stupor every night while I cried myself to sleep. I would hang my head as far off of my side of the bed as possible to keep from smelling the stale Jack Daniels that seeped through my husband's pores. It was an awful in my life.
Why did I have to suffer for almost four years after turning my life back over to Christ? Why didn't he just deliver Tommy from his alcoholism right away? He had a lot to teach me, that's why. And if I hadn't gone through what I did, how could I help others to go through their trials?
Are you going through some stuff? Are you asking God why He continues to let you suffer when He could clearly put and end to it if He wanted to? May I suggest that He may be using your circumstances to help you grow up as a Christian? He may be letting you go through so that you can help someone else get through. Did I like it when I was going through it? Heck no! Do I regret having to go through it? Not for one minute. Now I can help others facing the same circumstances. As a coach I can walk hand in hand with someone who can't see the light at the end of their tunnel and assure them that they, too, will get through it. If you think you may want some help getting through your tough situation please schedule a free strategy session with me and let's see if I can't be of some help.