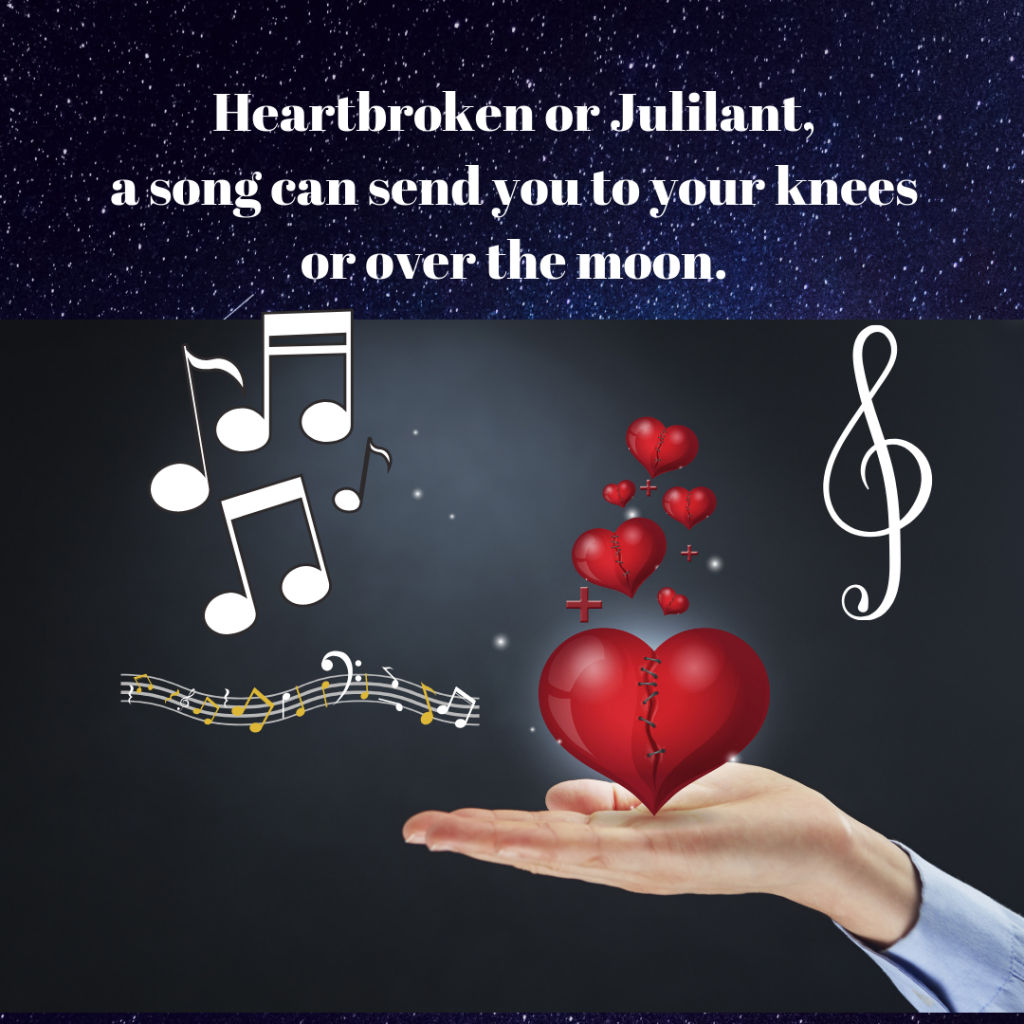 Heartbroken to Jubilant - Songs can send you to your knees
or over the moon.
Tommy told me that he wanted a divorce and then went merrily
about his business while I fell apart. It was January 2002. I listened to two
kinds of music back then, country and western. The day Tommy made his request I
turned the radio off in my vehicle, and I didn't turn it on again for close to
a year. If you're a fan of country music, you know that the lyrics written to
most songs are about life and pain. Lots of pain. If a song isn't painful in
itself, the memories it triggers can be debilitating. Do you know where I'm
coming from?
Today as I was driving to my workout, George Strait's, I
Cross My Heart, came on the radio. It was our wedding song, and I found myself
crying. I'm so grateful that they were tears of joy. It would have been the
opposite if God hadn't worked miracles in my life. A quick recap for those who
may not know mine and Tommy's story.
I'd owned Johnny's Bar & Grill in Hollister, California for about six years when my husband floored me with a request for a divorce. Since for most of those six years I'd been working like dog while he drank like a fish, I couldn't believe that my husband wanted to leave me. A caveat, I knew my husband was an alcoholic when I bought the bar. He quickly quit his well-paying job and took to drinking full time. By the time he quit, and thank you, Jesus, there is a happy ending to our story, he was drinking 1.75 liters of vodka and Jack Daniels every single day. That's one of each. He was drinking himself to death.
I share this with you because I know there are many folks
out there in tough situations that don't think they have a snowball's chance in
hell of turning out well. I totally get you. I was in your shoes. But God had a
plan for my life. It included my marriage being saved and Tommy's sobriety. It
was against all odds and reason. God delights in showing up in those situations.
He can work miracles for you too if you only give Him a chance.
I cranked the radio up this morning and sang our beautiful wedding song at the top of my lungs with tears streaming down my face. I felt blessed beyond belief. My heart's desire is to help those that can't see the light at the end of their tunnel, understand that God wants to help you. He wants to give you your hearts desires and fill you to overflowing with gladness. But He won't force Himself on you. So, if you are like I used to be, controlling, manipulative and too stubborn to ask for help, I'd like to save you some misery. If you follow my advice, you too can have healthy, mutually satisfying relationships, peace,andjoy.
Give God the reins and let Him take care of your problems. It's a bit easier said than done, especially for control freaks like me. If letting go and letting God is something that you'd like to do, but you don't even know where to start, I'd like to help. I developed my 12-week small group coachingexperience to help you do just that. If you'd like to replace overwhelm and guilt with joy and peace, please sign up for a free 45-minute Freedom Through Faith Discovery Call.You can find the link to sign up on the Transforming Hearts for Fresh Starts website attached below.
I'd love to help you find the way to your miracle. I look
forward to hearing from you.