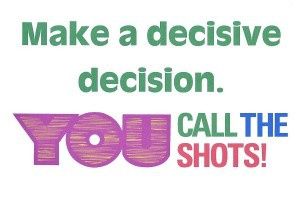 It's that time of the year again. New Year's resolutions are on many folks minds. I did a little research and found that it's believed that the Babylonians were the first to initiate New Year's resolutions over 4000 years ago. They made promises to their many gods in hopes of improving their lives. The Romans followed suit by making promises to their two-faced god Janus. In the Medieval era knights made vows of chivalry for the new year. And early Christians prepared for the year ahead with prayer and reflection. I'm a Christian and I like that last idea a lot.
According to the Statistic Brain Research Institute, of the top ten New Year's resolutions for 2015, number one was lose weight and number two was get organized. They also reported that of the 45% of Americans who make New Year's resolutions only 8% achieve them. As if those odds aren't bad enough, of those 8% only 14% of those over fifty will keep them. Those are some pretty frightening numbers. So why does anyone bother to make a New Year's resolution? Because they have hopes of improving their lives in the coming year. And setting goals is a good thing. Another study reported that 22% of men achieve more after setting goals and 10% more women achieve goals after announcing them to the public.
So I'm stepping out there, folks. But I'm making a decisive decision, not a resolution. And wouldn't you know the areas in my life I've decided to work on were the two top resolutions for 2015. Number one, lose weight. I'm going back on the South Beach Diet. It's the diet I used to lose 20 pounds a very long time ago.
I love that a cardiologist came up with the concept when he was trying to help his patients achieve better heart health. When he realized how much weight they were losing he turned his focus to the diet and thousands of people have lost weight and are healthier because of it. The first two weeks were the roughest (for two weeks you avoid all carbs, including fruit) but once I got into the regimen I felt healthier and enjoyed it. Bread and a potato during the same meal became something I could no longer consider eating. It was years before I ate the two in one sitting but I have been known to indulge once in a while. The principles I learned helped me a lot, and I'm sure that I am healthier today because of them. I'm really looking forward to enjoying the results again. I learned how to do great things with cauliflower, like make South Beach Cauliflower mashed potatoes and South Beach Diet cauliflower macaroni and cheese. They taste great without all of the carbs. My South Beach Diet cookbook is loaded with wonderful recipes. My husband loves his carbs and he isn't going to be thrilled, but he's welcome to cheat when he leaves the house.
[caption id="attachment_702" s, chaos on steroids![/caption]
Number two on my list is to get organized. My office at Johnny's, as well as my home office, is in such a state of disarray that it makes it difficult for me to concentrate. Keeping up with one business is hard enough, but two is making my head spin. I know that better organization will make my life easier. There are plenty of helpful hints on the internet regarding organization too. It's never been so easy to find helpful information.
But the internet is the culprit that effects my third resolution. I need to write every day. I sit down at my computer and decide to check my email or look at Facebook and hours fly by. I can't let that happen anymore. I need to make a schedule for writing and stick to it. I've heard there's an app that keeps you from getting on the internet during the times you input into the program. Maybe I should get the app. Some days I need to do more at the bar so I can't write as much, but there is simply no excuse not to write at least a little every day. I want my writing and my codependency coaching career to flourish and that means putting in the effort. I did it with Johnny's and I can do it with catyson.com. I took a fledgling bar and grill and doubled the business in my first year. I worked outrageous hours to accomplish it but today the business has grown to a level that amazes even me.
[caption id="attachment_703" />
 Ephesians 3:20 - The Living Bible[/caption]
God is a part of everything I do and I believe that He has blessed my efforts. Without Him I can't begin to imagine where I'd be. Keeping Him at the top of my priority list has changed my life. If you check out my book Born Again in a Biker Bar you'll see the proof is in the pudding. You can purchase an autographed copy from me or go to Amazon for the Kindle version or paperback.
I can do all things through Christ who strengthens me. I'm handing these decisions over to God and asking for His help. Like the Christians in Medieval times I'm praying and reflecting and believing God for an even better 2016. 2015 was pretty awesome, so asking for more might seem selfish. But God's word tells us that we can ask for anything in Christ's name and if it's His will, we will receive it. I love what the apostle Paul says in Ephesians 3:20 from my Living Bible translation. – Now glory be to God who by His mighty power at work within us is able to do more far more than we could ever dare to ask or even dream of- infinitely beyond our highest prayers, desires, thoughts, or hopes.
I'm dreaming pretty big and believing for great things in 2016. How about you?