For twenty-two years and three months, I owned and operated a historic establishment that I took great pride in. I bought a fledgling bar and grill and by the time I left, it was a famed bucket list destination with revenues higher than I ever dreamed possible. The fact that I was able to do that in the square footage allotted was a huge accomplishment. The fact that I did it without so much as a manager in place to help me, up until last year, attests to the fact that I may be a little bit crazy.
Johnny's and I came a long way since January of 1996. There was a time that I didn't know how I would separate myself, and my life from the business that I built. God saw to it that it was easy. Not just easy, but fabulously wonderful, total and complete. After final inventory and closing the books as the owner I walked out of the door on April 1, 2018, and I haven't looked back. I left many personal belongings and haven't even been able to bring myself to return for them. I'm having Pete's bookkeeper box them up for me. I don't know why, but I can't even think about setting foot in the place at this time.
[caption id="attachment_1053" /> Pete and I put on a good show.[/caption]
I announced to the world that I would be leaving my position as the owner of Johnny's on January first. Despite things not falling into place for that timely exit, I ceremoniously handed keys over to my buyer, Pete Lago, at midnight 1-1-2018. It was a gesture of good faith as much as it was a reenactment of how I received the keys and business in 1996. No one but a true friend would have gone along with my premature declaration.
Let me tell you a little bit about Johnny's new owner.
I met Peter Lago in 2003 when my brother Jake brought him to Hollister to help out with the motorcycle rally. He not only performed multiple tasks during the rally, but he then stayed on to help build the koi pond in our backyard. We'd moved from our house on Petaluma Court and all of my fish were still there waiting for their new home to be built. Tommy was still drinking back then and without Pete's help, I would surely have lost my mind. I can still picture my husband on the backhoe with his Jack Daniels and coke held high in the air as he acted like he was riding a bucking bronco. The monstrous yellow machine teetered on the edge of the large hole that was our pond and it looked as if it would topple over at any moment, leaving my crushed husband in its wake.
We survived the experience and now have a beautiful pond with very happy fish. Pete had never built a pond but he got in there and took to its construction like a fish takes to water, pun intended.
[caption id="attachment_1054" /> My beautiful koi pond.[/caption]
I knew then that he was a man of many talents and that when he sets his mind to something, he gets it done. He returned off and on to help with the rally, the last time being 2017 when once again he made himself indispensable.
His expertise as a sound engineer made him the perfect person to record my audiobook so he returned with his audio equipment in August and once again his penchant for doing anything he does well shined through. Before the audio release, we need to rerecord the intro and first chapter because my nervousness was glaringly apparent. He had the patience of a saint, doing take after take when I would lose track of my place in my book or mispronounce a word, or skip a word. There is no way for me to describe the tediousness and monotony of the job to someone who has never recorded a book. Pete made it bearable and many times fun. He made me laugh more times than I could count.
[caption id="attachment_556" >Amazon.com[/caption]
I told Pete that I thought he would make a good bar manager and that started the ball rolling. He wasn't slightly interested in being Johnny's manager but he was seriously interested in buying the historic bar. He knew of Johnny's place in history long before we met. He rode a Harley and at the time belonged to a motorcycle club himself. Aside from his desire to buy the place, the financing was going to be tricky. We talked and texted back and forth from his home in Maui and decided that we could figure out a way to make it work. Things were going a little haywire for Pete in Maui and it seemed that it was perfect time for him to make a life change. The Lord works in mysterious ways.
Without going into long drawn out details I'll say that things did not go as smoothly as we had planned. My attorney wrote up a proposed contract that would have essentially left me as controlling shareholder of Johnny's Bar & Grill Inc. until Pete had completely paid me off. It was written giving me WAY too much interest and control in the business that I was supposed to be stepping away from. I know my attorney's intention was to protect me but it was a contract that would have put Pete on a redeye back to Maui.
This set the wheels in motion for a turbulent timeframe that I thought I might not survive. When you have a plan in place and things don't go as you expected and one thing after the other goes wrong, you really start to question the arrangement. I hadn't separated myself from Johnny's and God knew I needed to go through some things in order to make the detachment complete.
I put Pete in a managerial position while we tried to sort out the finances. As a recovering codependent, I still have areas that I need to grow in. Making my boundaries clear to people is one of those areas and it caused serious contention. With my self-inflicted problems, bad bookkeeping changes, (don't even ask me what I think of Quick books online) and my managers' surgery that kept her from helping me through the perilous time, most of the last months at Johnny's were a living hell for me.
An incident brought on by the way I was handling myself and my business caused me to let go of a bartender that I truly cherished. She took with her much of my daytime business. The loss of revenue, as well as many people that I had called my friends for years, was devastating. I kept asking God why all of these horrible things were happening and not getting any clear answers.
In hindsight, I see His plan as clear as a bell. He knew that if things had gone smoothly and I remained connected to all of those people I would not have been capable of separating myself from Johnny's completely. I needed to leave Johnny's in the rearview mirror of our motorhome and not look back. He knew how to make that happen and as painful as it was at times, I wouldn't have it any other way. My detachment could not be more complete.
Just as with my husband's sobriety, God did things in his timing and in His way. Not the way that I would have chosen. But as always, His way was the best way. He began preparing me for my separation from Johnny's over two years ago when all motorcycle clubs, including the one that I was so attached to, distanced themselves from me. It's not something that I can go into detail about. Suffice it to say that it was painful and at the time very upsetting. Without my faith in God, it would have derailed me. Thankfully, at that point, I'd come to the place of complete trust in Christ and His provision. He was faithful and Johnny's thrived in spite of the setback. God is good.
Even though Johnny's was thriving financially I didn't have the will required to reinvest time and energy into making much-needed repairs and improvements. I was done physically, mentally and spiritually and needed to move on. I've said that it should have happened sooner but once again, I believe God's timing is perfect.
I am sooo happy to be out of the bar business. Pete put a healthy downpayment on the bar and will be financing the rest. He is 100% stockholder of Johnny's Bar & Grill Inc. He is president and CEO and I have zero to say about what he does with HIS business. My name has been removed from the liquor license and all documents pertaining to the company. It was a long and arduous task but it's done and I couldn't be more thrilled. My phone is no longer blowing up with calls and messages about no-show or drunken cooks, plumbing issues and refrigeration issues, and the myriad of other problems that accompany owning a bar and grill. Pete has encountered so much of that already that he may be questioning the sanity of his decision.
[caption id="attachment_1055" s business.[/caption]
My only interest now in Johnny's is that it grows. With Pete's energy and dedication, I know that it will. I want him to succeed and reap the benefits that the business afforded me for so many years. I pray for him and the crew daily.
He kept Johnny's crew in place and has the addition of a new dedicated and talented cook. He's added Tio's BBQ on Sunday afternoons and a breakfast buffet so weekend riders can grab a quick breakfast and get back out on the road. He is making many upgrades and changes, as well as much-needed repairs to the place. In everything he's doing, honoring Johnny's place in history is of paramount importance to him. He is the perfect person to replace me and could use everyone's support, especially since the coneheads on the city council saw fit to cancel the rally again. This is a positive post so I won't get started here. You can bet you have not heard the last from me on the subject though. Old habits die hard, and the absurdity of the situation infuriates me, bar owner or not.
With my separation from Johnny's complete the only thing, I will miss about it is the cherished customers and friends that I made there. I can't say enough about how much you all mean to me. You gave me one heck of a run and my prayer is that you will show the same support to Pete.
[caption id="attachment_1058" s a biker, a smart businessman and a man of many talents.[/caption]
Please go on down to Johnny's and say aloha to its new owner. Have a pint of one of the Hawaiian brews he currently has on tap and enjoy a fabulous meal. Tommy stopped in for Loco Moco yesterday and said it was great. I wanted to clobber him for not letting me know he was going to Johnny's. I asked Pete if once in awhile he could sell me a pound of the thick and scrumptious bacon the bar uses and he graciously agreed. I can't get bacon that tasty at the market. I guess I lied. There are two things that I'll miss at Johnny's.
Thanks again for your decades of support. I am very blessed to have served you all. One of these days when I believe the timing is right I'll pop in and say hi. Maybe I'll come in for karaoke and do "Boots" on top of the bar. That is if Pete will let me. For now, I'm keeping busy building my new career as a transformational coach, blogger and writer and enjoying the open road with Tommy and Paddy in our motorhome.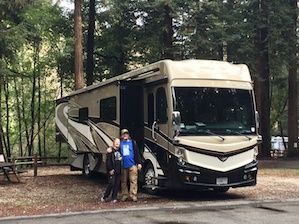 [caption id="attachment_1057" s seat.[/caption]
Please stay in touch on the Internet. You can find me at catyson.com, on my Facebook pages, Youtube, Twitter and Pinterest accounts. If you aren't already a member of my Facebook group Love Notes from the Lord I encourage to join us. It's a great place for prayer and encouragement.
God bless, Charisse