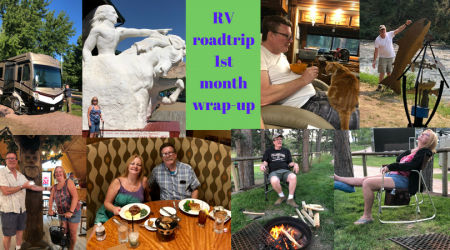 We were cruising down Highway 30 East, in Illinois. Rows and rows of cornfields and other produce that I couldn't identify lined both sides of the road. Don't Worry be Happy was blasting from the stereo; another delightful surprise from Sirius Satellite's No Shoes Radio Station. I felt more blessed than I can even say.
Our three-month cross-country road trip got off to a rocky start when I broke my ankle on June 8th. I had joined Tommy at our property in Shingletown, California for what was supposed to be a five-day visit before returning home to pack for the long haul. I was coming to the end of my morning walk on the logging companies property adjacent to ours. I'd almost slipped numerous times and I was grateful that I was close to our making it back to our motorhome without incident.
Then it happened. My right foot slipped on some pine needles on a small incline and before I knew it I was on the ground. I prayed that the cracking noise I heard was a twig I'd broken in the fall. Alas, it was the sound of a bone in my ankle breaking. Thankfully I had my phone with me and I called Tommy and wailed the dreaded words, "I've fallen and I can't get up!"
The Reader Digest version of the story is this, after an excruciating ride in Tommy's truck to the medical center in town, an hour plus wait for the helicopter without so much as an aspirin for pain that exceeded giving birth to my son, another excruciating ride on a gurney over bumpy terrain, and a very scary claustrophobic flight to the hospital in a whirlybird, my world was turned upside down. Take it from me, your plans can be changed in an instant and you have no control over it.
Surgery, an infection, and horrific fires made for problems I couldn't have anticipated in a million years. Shingletown is a thirty-minute drive from Redding where the Carr Fire was eating up homes, causing deaths and filling the air with smoke for hundreds of miles. It is one of the worst fires that California has ever experienced. The timing for surgery at Mercy Medical Center that required followup could not have been worse. When I needed to have a doctor look at my infected wound and give me antibiotics, as well as tell me how to care for it, they were all being evacuated. Thankfully the morning of my six-week checkup there was an x-ray technician at the doctor's office. The receptionist took pictures of my infected wound and sent them on to the nurse. A prescription for some heavy-duty antibiotics was called into the local Safeway where we were going to do some shopping after my appointment. I'd already been on some weaker antibiotics for five days, which obviously wasn't working. If you saw the picture I posted on Facebook you know just how bad the infection was. It was excruciating.
I was very grateful that I had moved my Monday appointment to Friday so that we could get out of town sooner and escape the smoke. Friends in Shingletown had their bags packed in case an evacuation was called for our sleepy little city. We went to Safeway to shop for provisions in preparation to get on the road the following day. While Tommy grabbed groceries from the list, I waited in line at the pharmacy. I never thought I'd see the day that I was cruising around Safeway in one of their electric chairs with a cart on the front. I can tell you they are a godsend to a person with a broken ankle. The poor pharmacist was alone and he was swamped. He had four lines waiting for his assistance on the phone and who knows how many prescriptions waiting to be filled. He informed me that it might be 4:00 in the afternoon before he got around to filling mine. With a raging infection, it was the last thing I wanted to hear. Sometimes you have to take the attitude that it is what it is. I told him we were from Shingletown and that I would have to return the next day.
As we drove away from Redding I told Tommy that I couldn't get over the eeriness of the entire town. Despite not being able to get my antibiotics for another day I felt very fortunate. I'd received my x-ray and we wouldn't have been able to leave town without having done that. If I hadn't moved my appointment, who knows when we would have been able to escape the smoky area? So many people had lost so much. My ankle issue paled in comparison.
With the decision to leave Shingletown on Saturday, July 28th  we packed up and planned on picking up my prescription on the way out of town. We had reservations beginning on Sunday night at the Lake Siskiyou Camp Resort. I called to see if we could get in one night earlier but they were full. Tommy got on the phone and found us an RV park in MacCloud RV Park for one night. We just wanted to get on the road and head away from the fire. As it turns out we didn't escape the smoke completely until we hit South Dakota. The entire West Coast of the country was plagued with fire. I'm sure 2018 will go down in the history books.
[caption id="attachment_1378" s with our pals is a must.[/caption]
On to the traveling escapades, after one night in MacCloud, we headed to Siskiyou Lake for a three-night stay. Our wonderful friends Russ and Judy Larson met us at the campsite and drove us to a restaurant that we really enjoyed on our last visit to the area. We had another fabulous dinner at Mike & Tony's. They picked us up the next day and we went on an excursion to have lunch, visit a hatchery and a Shasta museum. They took us to the Rite Aid drug store in Mount Shasta where my pain medication was supposed to be waiting for me. Unfortunately, it took four phone calls to the doctor's office and a return visit to the pharmacy with a 30-minute wait before we got my pills. They were so patient and I don't know what we would have done without them.
We left California for Oregon on the first of August. We'd only planned to make a couple of stops in Oregon but that changed because of my ankle issues. We wound up staying in Oregon for eleven days. As well as making two visits to a wonderful physical therapist and two visits to urgent care because of my infection, we were able to hook up with friends and family. We spent one night with Tommy's daughter, Jean, and her husband on their property, visit with Monty, from Twelve Step Radio, and spend one night at Billy Bob Sheppard's Christmas tree farm in Yamhill. Our pal moved there from Hollister awhile back and it was great to see him. His lovely bride, Kelly Bob, as we like to call her, was in Alabama at the time. Bill was a fabulous host and his property took your breath away.
[caption id="attachment_1379" /> The boys played games in the fabulous backyard.[/caption]
The next stop was Tacoma, Washington where we stayed in a lovely park and had a great time with my Cabo pals Hoppy and Shirley who had never met Tommy. They treated us to dinner three times. The only time I got to outdraw the Hopkins with my wallet was when Tommy and Shirley got a pedicure while I got a manicure. Shirley chastised me for paying for her toe beautification. We enjoyed a couple hours at a local casino with them and some really tasty meals. We made one more stop in Washington at Moses Lake. Washington is a state that requires a couple of stops to avoid being wiped out by long drives.
[caption id="attachment_1380" /> Our final dinner with the Hopkins at the casino.[/caption]
Our next stop was Coeur d'Alene Idaho. We stayed in a nice RV park and I was jealous that Tommy got to go for a stroll. I wasn't jealous of the dip he took in the lake when he accidentally fell in the lake while trying to enjoy a canoe ride. He was soaked head to toe and we were blessed that his phone dried out in a bag of rice.
Then it was off to Montana. We stayed in three different campgrounds there. I thought I'd made reservations at a park in Yellowstone and found out that I hadn't secured it. We were able to get in for one night and I was fortunate to get us a reservation at a KOA in West Yellowstone for another three.
What I thought was a miserable blunder on my part became a huge blessing. The Grizzly RV Park was smack dab in the middle of town and walking distance, rolling distance on a knee scooter for me, and we able to enjoy a great dinner at Bullwinkle's. There was a really long wait but it wound up being well worth it. My garlic stuffed filet mignon was "to die for." After dinner, we wandered around town and did a little shopping.
The next day we were able to park the motorhome at the Grizzly and Wolf Discovery Center. It was a great experience and I'm so glad that we got to see it. We couldn't check into the KOA until 2:00 and it was a great distraction. We had a nice lunch, did a bit more shopping and headed to the Westside Yellowstone KOA. It was a great park with a little restaurant and we had some very tasty ribs with all of the fixings for dinner. We retired early listening to the rain on the motorhome rooftop because we had a full day tour of Yellowstone booked the following morning.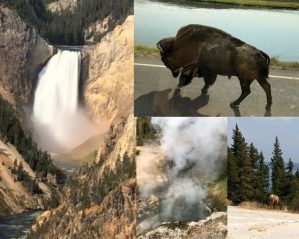 We were picked up at the park and our wonderful driver and guide took great care of me. He gave me a stool to put underneath my leg so that I could keep it elevated while we were driving around and fastened in my knee scooter in for safety. He was well informed about Yellowstone, it's flora and it's wildlife and not only was the tour fun it was also very educational. He made four stops and I was able to roll around Yellowstone viewing geysers and wildlife. We enjoyed the boxed lunch we purchased at one of the stops and some ice cream at Yellowstone's Old Faithful Inn. It was a long day that wiped me out and I was glad that I added a night to our stay at the KOA so that we could just veg and rest up for the next day's drive.
[caption id="attachment_1381" /> The Grizzly Wolf Discovery Center and Yellowstone were amazing.[/caption]
I'm so glad that we did. Despite only being a 192-mile trip, the windy roads riddled with inclines and declines as well as construction delays was harrowing for my honey. Grey Bull was a bad pick for a stop because there was very little there. The KOA was clean and the park's caretakers were nice but a good nights sleep was not a possibility there. Trains rolled through the turn style close to the park all night long. Thankfully it was a one-night stop.
The Beaver Lake Campground in Custer South Dakota was our next stop. The campground was nice and its location close to points of interest was a big plus. They also had a rental car available. We brought our Piaggio Scooter on the back of the RV for making trips to restaurants and tourist destinations but my ankle kept me from riding on it. Despite finally being able to put weight on my right foot, the fear of the scooter tipping over and being forced to put a lot more weight on my ankle than I should keep me from riding on it. We spent a small fortune on Uber in Oregon getting me to my doctor's appointments so $70.00 for a rental car for a day sounded like a really good deal.
The convenience of the car rental was great but for $70.00 I would have hoped for a clean front windshield and air conditioning that worked. We had a great day beginning with a church service that was pastored by Joel Ziolkowski, the son of Korczak Ziolkowski,sculptor of the Crazy Horse Monument. The service was wonderful and we left with refilled spiritual tanks. We went to see the Crazy Horse Memorial, which I find to be more amazing than Mount Rushmore. The fact that one family continues to work on this monumental feat boggles the mind. The government offered them ten million dollars to help with the project and they turned them down. They know that accepting government funds will equate to government control and they will not let that happen. Visitors to the monument and donations fund the entire project. Everyone should see it at least once. Be sure to watch the video that explains exactly how the building of the monument took place. It is awe-inspiring.
[caption id="attachment_1382" /> The historic journey of the monument is well documented.[/caption]
We took an extra day to relax before heading out on another long day of travel. I had to make appointments in Buffalo New York to have my ankle x-rayed at the twelve-week mark and one with a physical therapist in Grand Island where we will spend four days. I arranged a Niagara Falls tour for us that will include a visit to the American and Canadian sides of the falls. It includes a boat ride under the falls and I'm very excited about it. After a full days rest and taking care of details I was ready to hit the road bright and early the next morning
We didn't have reservations until Grand Island so we decided to go only as far as Tommy was comfortable with. We made it 325 miles to Mitchell South Dakota and stayed in another nice KOA. I've been very impressed with all of the folks that run the KOA RV Parks. They are all very nice. Many of the RV parks are right off of the freeway, which is very convenient. However, that means traffic noise. This park was on a busy road close to the highway but it was quiet at night.
I was very excited about free-styling it and not being concerned about reservations everywhere. We'd seen so many RV parks that I didn't think we'd have any problems getting a place to stay. That is until I called the park that I had written down as a must stay at choice and found that I'd forgotten it was Labor Day weekend. When you retire you can miss these things. We were able to stay one night at the Mendota Hills Campground but they were booked solid for the weekend. So was everyone else I called. We were really disappointed because they had a church service right there in the park on Sundays. We're still not comfortable with me riding on the back of the scooter. Maybe after I hear about my x-rays, but for now I don't feel at ease about riding on it.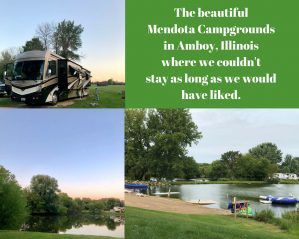 After more phone calls then I can count I found a park with one sight left. It didn't have sewer but at least it had water and electricity. We are Glampers in every sense of the word. It was a huge relief to know that it wouldn't become necessary to spend a night or two in a Wal-Mart parking lot. Tommy got mad at me for voicing the possibility out loud.
We stayed at Mendota Hills as late as possible hoping that someone would cancel their reservation but it wasn't in God's plan. The next stop was over 300 miles away and we didn't get out of the park until after noon. I suggested I try to get us into a casino RV Park that I'd seen online. I figured it would be easier to get into on the holiday weekend and I was right. The Hollywood Casino RV Park is much nicer than the cement slab we stayed on at the casino in Redding. There are lots of trees and it's quite beautiful. We don't have sewer here either but I told Tommy we should make it a two-day stay so that I can do my Facebook Live to give away ten copies of my audiobook. I thought September first sounded like a good day to do it.
We had a really nice dinner last night and played a little at the tables. I plan on hanging out in the motorhome today and finishing this post before I do my drawing. I hope to see many of you there. If you aren't in my Facebook Group RV Road Trip with Tom, Cat, and Paddy and would like to tag along with us, just send me a request and I'll add you to the group. You can cross our beautiful country vicariously with us.
[caption id="attachment_1387" >Final Cut Steak House[/caption]
I hope you've enjoyed our first month on the road. There are two months left on our trip of a lifetime. It was a dream for a very long while and have come to fruition has been a bigger blessing than I can say, even with a broken ankle. Keep those prayers coming. I can put weight on my ankle and I walk with a cane but I'm still experiencing a lot of pain and the darn wound on my ankle still has not healed completely. I'm tickled pink that I have healed up enough to do my part in the setting up and closing up between stops.
God bless and we'll see you on the road. Always, Cat