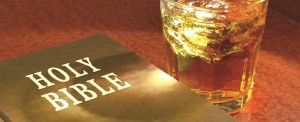 When tragedies like the latest one strike, I almost question that myself. The Johnny's Bar & Grill family lost another dear friend recently. This time it wasn't cancer that took him or a massive heart attack. It was cirrhosis of the liver that our pal succumbed to. Cirrhosis is often tied to drinking and alcoholism. Our friend loved his beer, but as far as I know he didn't drink anywhere near as much as my husband Tommy did before he embraced sobriety. But it was cirrhosis, so the devil whispers his little lies in my ear, trying to make me feel a little bit responsible.
My husband's doctor told him years before he quit drinking that if he didn't stop he would die. In January of 2002 when Tommy asked me for a divorce, I truly believed that he might drink himself to death. Thankfully I had renewed my relationship with Christ, and I believed, just as strongly that whatever happened, God would pull me through. By the grace of God in November of 2005, my husband entered a treatment program of his own accord. I'd long before learned that my nagging, crying and cajoling was not going to make him quit. I learned to let go and let God and it saved my sanity, my marriage, and very likely my husband's life.
 
Once I renewed my relationship with Christ, (I'd given my life to Him at the age of nine) I decided that God surely didn't want me running a bar. As a Christian I never believed in random acts without meaning. I was sure in November of 1995 that God wanted me to purchase Johnny's Bar & Grill. Everything came together as it needed to. I received an inheritance from my great aunt in the nick of time that afforded me the down payment. I'd worked in the bar business since I was seventeen years old and had always wanted my own place. At midnight January 1, 1996 the previous owner dropped the keys to Johnny's into my hands. It was a God ordained dream come true.
You see, I was one of those convenience Christians. You know the type, heck you may even be one. You pray and ask God for things that you need or want, rail at Him when things are going wrong, "God, how could you let this happen to me?", but when things are going smoothly you don't give Him a second thought. I'm not trying to guilt trip you here I'm just being real. I was that person for many years so I know of what I speak. I hadn't acted the way the Bible tells us a Christian should act for many years. I partied like a big dog, cussed like a sailor, was impatient, controlling, selfish and rude. But hey, deep down I was a good person. If I cared about you I'd give you the shirt off of my back. If you needed help I was always right there. I gave a lot of money to charity. I was fun to hang around with and I made people laugh. I believed in God and loved Him very much. I was going to heaven when I died. Why did I need with all that Christianity stuff?
I'll tell you why I needed it. My life was a mess. I was an enabling, controlling, codependent, stressed out freak! My employees tiptoed around me, never sure when they would have to endure the wrath of the redhead. I snapped people's heads off over the most trivial things. It was my way or the highway. I constantly railed at my husband and said terrible things to him. Tommy never drew a sober breath. He was drinking himself to death. If I had to go home to a drunk, I wasn't going to do it sober. I was consuming copious amounts of alcohol in self-defense. I never got a good night of sleep. Either the booze I consumed or the smell of Jack Daniels that oozed from my husband's pores kept me awake at night. I was about as close to being a basket case as one can get.
Anyone that knows me will tell you that I don't do things slowly. Turning my life around by embracing my Christian roots was no different. I did a 180 so quickly that it left those that knew me a little stunned. I stopped cussing and insisted that everyone else around me clean up their language. I still have small battles with customers who insist they should be able to use the F-word because Johnny's is a bar. My response is always, "Yes, but it's my bar and it represents me." This brings me to the Christian bar owner issue. I'm sure that if I asked many folks reading this, "Should a Christian own a bar?" they would say, "No frigging way!" I totally get why you feel that way. Please let me share with you why I no longer do.
When I decided that God couldn't possibly want me in the bar business I came up with my own plan. I was sure that God was fully behind it, too. I was going to sell the bar and our house and purchase a bed and breakfast. I would have many wonderful opportunities to share the love of Christ with countless strangers and fulfill God's plan for my life. Tommy was still drinking at the time, though he did try to cut back. I was certain there was no way that he could quit drinking while I still ran a bar. He even told me as much. We went as far as putting an offer on a great little six room bed and breakfast on the Russian River. The owner's quarters were separate and roomy and it was just what we were looking for. Our offer was contingent on going home and selling our business and our home in Hollister. Should I have been shocked when the sellers said no? Believe it or not I was. I was sure that it was God's plan for our lives. Just as my inheritance had come through in the nick of time so that I could buy Johnny's, God would arrange for us to buy the bed and breakfast. I'll cut to the chase and tell you that it was not God's plan so He had no obligation to honor it with His assistance.
In hindsight, I know how terribly my plan would have worked out. I would have been 175 miles from the home and people I'd come to love dearly. My support system of friends and relatives stripped away, I would have had to deal with my alcoholic husband all alone. Speaking of which, I'm sure my handy man wouldn't have been much more help at a bed and breakfast than he was at the bar. At least at Johnny's I could handle taking care of pretty much everything on my own. What I couldn't handle, plumbing, electrical, bar stool repair, I could get a customer to help me with or hire someone to take care of. With the slim income we would be making as new Inn owners I very likely wouldn't have been able to afford to hire help. It would have been a complete disaster. God knew it, I didn't.
God's plan was to work his miracles right where we were. How amazing is it that after more than thirty years of drinking Tommy put himself into rehab while we still owned Johnny's? How much more of a blessing is it that because of what we went through we are able to share our miracle story with others and give them hope and encouragement? How crazy is it that a woman with only a tenth grade education was able to writeher memoir about the experience and sell hundreds of copies receiving rave reviews? God is good!
Jeremiah 1:5 says, "I knew you before I formed you in your mother's womb. Before you were born I set you apart and appointed you as my prophet to the nations." God's plan is always greater than our plan. I still believe that He arranged for us to buy Johnny's Bar & Grill more than twenty years ago. He knew everything that we would go through and He knew that we would come out victorious. He knew that we had a much greater chance of meeting and reaching out to those that need Him on a bar stool than on a church pew. Thankfully we have a wonderful church home where the Holy Spirit moves in a mighty way. We have a wonderful pastor who feeds us with the Word of God and gives us the resources we need to do battle for the Lord. And believe you me folks, we are in a battle. The world is full of darkness and God's people, the church, are assigned to be the salt and light of the earth.
[caption id="attachment_715" />
Matthew 5:13-16[/caption]
I won't lie to you. I'd much rather be writing and doing my codependency coaching full time, without having the responsibility of running a bar. But that will happen in God's timing, not mine. Until He sees fit to send the right buyer for Johnny's, I'm going to do my best to be salt and light right where I am. I plan on encouraging and building people up by letting them know just how much Jesus loves them. I continue to study God's word so that I can share a word of truth at just the right time. There are naysayers that try to discourage me but that only makes my resolve stronger. "You can't be Christian and own a bar," they tell me. Then I think about what Jesus says in Matthew 5:11-12 and I feel blessed.
[caption id="attachment_716" />
Matthew 5:11-12[/caption]
I was sitting in church last Sunday feeling bad because I hadn't visited our friend in the hospital. I truly meant to go but I got busy with my life and it simply slipped my menopausal brain. He is gone now. I didn't get to tell him how much we loved him. I know he believed in God because we discussed Him many times. But did he really know Christ as his personal Lord and Savior? It is my fervent prayer that he did. I'm in a precarious position as a bar owner. I don't want to run my customers off by being preachy. I am concerned that many of them do not have a relationship with Christ. We've lost many others and I was unsure if they knew Jesus. And sometimes God provided a clear answer that they were one of His. So I will continue to pray for our friends. I will love them and show them Jesus through my actions whenever possible.
 
I felt as if the final words of my pastor's message Sunday were meant especially for me. He said, "Don't say I've blown it. Just be light!" Thank you Pastor Bob. You brought me the word I needed. I pray that I can do the same for others in my bar.