If anyone would have told me at the onset of our cross-country RV adventure that Toad Suck, Arkansas would be one of our most memorable stops I would have laughed in their face. What a wonderful surprise this stop was. Between breaking my ankle before we headed out, our friends, the Roland's having to cancel their plans for traveling with us, and hurricanes ravaging the east coast, many of original plans changed drastically.
I was supposed to join some friends in Switzerland for ten days in the middle of our trip. I was scheduled to fly out of Harrisburg, Pennsylvania on September 13th and return to Dallas International on the 24th. My broken ankle and it's refusal to heal made the trip an impossibility. Now, I can't imagine the interruption to this wonderful trip and the things we would have missed if I hadn't been forced to cancel it. Leaving Tommy to travel alone for ten days because the Roland's, were no longer joining us would have been awful. There is no way that I would have enjoyed myself. We would not have gone to Nashville to visit with my brother and his wife, Kentucky to see my long lost friend Jeanne, or gone to Toad Suck, Arkansas and visited with Steve and Pam. It would have been a tragedy to miss out on seeing so many beautiful places and enjoying the visits with loved ones. I will cherish all of those experiences forever.
It was when we decided to skip going to Virginia that I reached out to our pals Pam and Steve Moore. Pam had messaged me on Facebook saying that if we made it to Arkansas they would love to connect with us. I asked Pam if there were any RV parks close to them and when she told me about Toad Suck I had to write back, "Did you really say Toad Suck?" I laughed as I made the reservation in the state park. Because Tommy has a federal park senior discount card, our two night stay with electricity and water was only $20.00. You heard me right, $20.00 for two nights in a beautiful site with a great view of the Arkansas River, locks and all.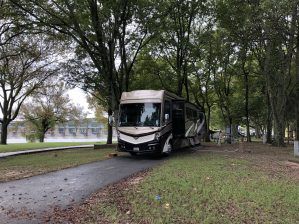 We hadn't seen the Moore's in longer than we could remember. Tommy was still drinking back then and Steve mentioned that I was "married" to Johnny's Bar & Grill and could never find time to spend with them. I thank God regularly that those days are over. The Moores grew up in Arkansas and had returned to their home state in 2014. Conway, Arkansas, where they now live is known as a college town and both Pam and Steve earned their degrees from ASU.
If we hadn't visited Steve and Pam we would have missed out on a lot. We were clueless to the fantastic scenery and historic sites that Arkansas offers. Our fabulous tour guides showed us so much. I took many pictures that can't begin to capture the grandeur we witnessed firsthand. I would suggest that everyone plan a trip to Arkansas if you have never been there.
[caption id="attachment_1423" s kitchen window.[/caption]
When we arrived on Tuesday the Moore's picked us up at the Toad Suck RV Park. They took us on a tour of their college town, pointing out places they attended as students and sharing their township with pride . Afterwards, Steve fixed us a fabulous dinner in their beautiful home. Their house sits on Beaverfork Park Lake and the views from their kitchen, living room, master bedroom and deck are amazing. Tommy and I are more jealous than I can say. They have a boat dock right on their property and four boats to enjoy. We were blessed to tour the lake on their pontoon boat. Since it was still raining cats and dogs when we got up Thursday morning, I thought my hopes of a boat ride were sure to be dashed.
It was Pam's birthday and apparently she had asked God for a sunshiny day. He blessed us all when He blessed her. We enjoyed the Petit Jean State Park with spectacular views, waterfalls, and a history that filled us with wonder.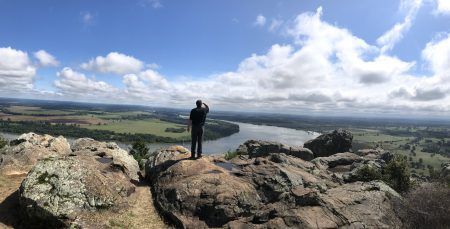 I've included pictures of the plaques that chronicle it in my Facebook post. I'm sure there are many of you that will enjoy reading the stories. If you enjoy American history as much as I do you will want to read them all.
We got to treat Pam and Steve to her birthday lunch at the historic Mather Lodge Restaurant. The views from the enormous restaurant windows were awe-inspiring.
[caption id="attachment_1424" />       The view from the Mather Lodge              Restaurant window.[/caption]
One of Arkansas's historic treasures, Mather Lodge holds the distinction of being the only lodge built in Arkansas by the Civilian Conservation Corps. The rustic warmth of this mountain lodge built of native log and stone, combined with the natural beauty of its bluff setting overlooking rugged Cedar Creek Canyon. I stole the description from their website.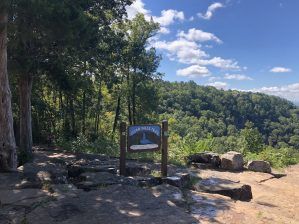 You can choose from 24 guest rooms or one of their many cabins. Tommy and I plan to return and stay in our motorhome at the camping facilities next year. In fact we plan on dedicating two full weeks to our next Arkansas visit.
The lunch at Mather Lodge was really good and at lot more reasonable than we would have expected for a unique restaurant in an out of the way location. We all enjoyed our meals and there was so much food that we took much of it home in a doggy box. I guess I should have skipped the salad bar.
After lunch the Moore's took us to the cute little store close to the campground for some homemade fudge and hand scooped ice cream. Steve insisted on buying dessert and we had four flavors of fudge to sample. I tried not to eat any of the fudge since I ordered a cup of the butter pecan ice cream. However, I couldn't resist tasting a couple of the flavors. It's a miracle that I can still fit into the pants that I packed for the trip. Visits with friends and family always seem to include eating tasty food. Not to mention that we eat out more than I ever thought we would.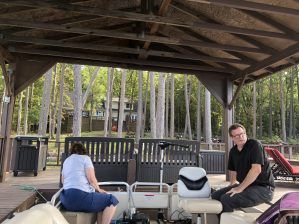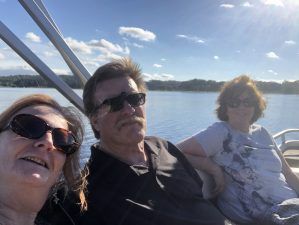 We went back to the Moore's for our lake cruise after dessert and it was invigorating. The sun was shining and the air was fresh and clean. The scenery was breath taking and skimming across the water with the wind in my hair made me feel like a kid again.
[caption id="attachment_1427" /> Steve, our captain and tour guide.[/caption]
Steve pointed out houses that they had considered before they purchased the one they now live in and we think they made the perfect choice. They refer to themselves as the Beverly Hillbilly's of the lake. There are some pretty ostentatious homes all around the lake but Tommy and I think their home is just the right size and style.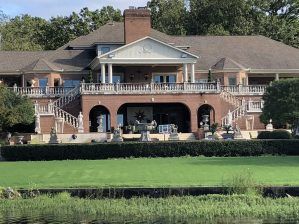 After our visit they dropped us off at the RV and we sadly said our goodbyes. If we had known how beautiful Arkansas was we would have planned our trip to include a lot more time there. Reservations and plans had already been made but we promised to return next year for a much longer stay. It was one of the highlights of our 62 day 16 state adventure so far.
I couldn't include all of the pictures in this post but if you go to our Facebook Group RV Road Trip with Tom, Cat & Paddy you can see all of them. We've got 27 more days and about four more states to visit. I look forward to sharing more photos and fun with all of you. God bless, Cat