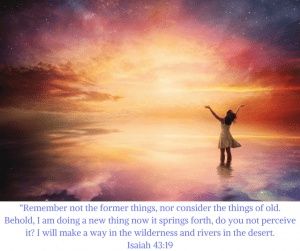 I used to be a worrywart. I fretted over the smallest things. I had no clue what real peace was. But then I found joy in trusting God with my problems. A Christian since the age of nine, I hadn't been walking out that life for many years. Like most backsliding Christians, I always called on God when things in my life were going terribly wrong. The fact that I hadn't given Christ or my faith the time of day for months, or sometimes years, did not deter me from crying out to God whenever I found myself in a pickle.
I remember one occasion vividly. We were still living in our first home and Tommy was still drinking. I can't recall the incident that brought on my meltdown. I do remember being on the floor in our living room in front of my hope chest, of all things, on my face. I was begging God to just take me now. Have you ever had one of those times in your life when you quite literally went off the deep end? That was me that night. I was so distraught that I didn't want to be on this earth anymore. I wanted God to take me right then and put an end to my misery. It was one of the biggest pity parties I'd ever thrown for myself. I'd had some before, and a few afterwards, but nothing beat that biggie in 2001.
Why was I such a basket case? Because I'd walked away from my Lord and savior and I didn't know how to trust God anymore. My childlike faith vanished with my short-lived childhood. With the responsibility of caring for my brothers while my mother worked, I forgot that I was a kid and didn't know how to act like one.
As small children, we blindly put all of our trust and faith in our parents and never question their love for us. Our parents may love us more than life itself, but they are still human. They will make mistakes and they will disappoint us and let us down. But God will never let us down. We may not like the methods He uses to get us through our problems, but if we trust Him He will bring us through them. In my experience I've come out a stronger and better person when it's all said and done. But trusting God in the midst of our troubles doesn't always come easy.
Jesus spoke of trusting God like a child in Matthew 18:2-4. Jesus called a small child over to him and set the little fellow down among them, and said, "Unless you turn from your sins and become as little children, you will never get into the Kingdom of Heaven. Therefore, anyone who humbles himself as this little child, is the greatest in the Kingdom of Heaven."
You can't ignore the first part of Jesus's statement. You need to turn away from your sinful life and then turn to God with childlike trust. He will take care of you like a loving father. I can't imagine what my life would be like if I hadn't turned it back over to Christ. Now I am living a more blessed life than I could have ever dreamed of. As Ephesians 3:20 says: Now glory be to God who by His mighty power at work within us is able to do far more than we could ever dare to ask or even dream of – Infinitely beyond our highest prayers, desires, thoughts or hopes.
I am entering a new phase of my life and to say that it is scary would be an understatement.
Putting an end to a twenty-two year chapter of my life and entering into this new one is the biggest thing I've done since giving birth to my son and marrying my husband. I'm getting the deliverance I've prayed years for from the responsibilities of owning such an all-consuming business. The change could not be more dramatic. Instead of running an iconic bar and grill I'm committing my life to helping women in relationships with alcoholics. I want others to know the peace and joy I've found through entrusting my life and loved ones into God's capable hands. Being used by God to help others is my heart's desire and now I'll have the time and energy to do it.
As I move towards January 1st 2018 and the beginning of my new life I'd appreciate your prayers for strength and faith. This quote by George Mueller will be on my dashboard, desk and possibly my mirror.
The beginning of anxiety is the end of faith, and the beginning of faith is the end of anxiety.
God bless, Charisse Tyson