A week ago I found out that my dear friend Virginia "Dago" Day went home to be with Jesus. The last time I talked to her she told me how much she wished I would come and see her again. As a matter of fact the last three times I spoke with her she emphasized it. I told her that my husband and I were leaving on a three-month-long cross-country trip in our motorhome. However, I assured her that when I got home I'd get to Carson to pay her a visit one way or the other. Sadly, I will not see her again until the Lord takes me home. I sincerely believe that she felt like her time on earth was coming to an end and she wanted to see me one more time.
I met this ornery, cantankerous, and lovable lady when she came to my bar in 2002. At the time I owned historic Johnny's Bar & Grill in Hollister, California. The motorcycle club that she was affiliated with at the tender age of 16 had a history with Johnny's. During the famed "motorcycle riots" of the July 4th weekend in 1947, her club occupied Johnny's for much of the weekend. It was hallowed ground for all members of the club until February of 2015. The demise of the relationship is a tale I won't elaborate on. Motorcycle club politics is something I was never meant to understand. Suffice it to say that the club disassociated themselves from my bar and me. In Dago fashion she said she didn't give a f*** what they said about me, I was her friend. She finished the statement with, "No one tells me what to do."
I got to know her best when Hollister's annual motorcycle rally was canceled in 2006. When 100,000 visitors in a three-day period to our town was reduced to about 10,000, I had a lot more time to visit with club members. I spent time visiting with Dago and I was blown away by all of the details she remembered from the late 1940's. She lost contact with the club and her best friend Terry Forkner, wife of famed Wino Willie Forkner for decades. Then she met another club member, Big Jim, at the American Legion in Carson, California where she lived. She noticed that he was wearing the colors of her old club and she struck up a conversation with him.
[caption id="attachment_1342" /> Big Jim, Dago and me.[/caption]
He was so excited to meet her and know about her history with the club. He arranged for her to meet some of her old friends from back in the day and she was tickled pink. Big Jim was a gem of a guy. He took Dago under his wing and they were the best of friends. He treated her with the respect the matriarch of the club deserved. I took her to see him on my last visit to her house and she brought him six loaves of zucchini nut bread and many tubs of crab salad. Apparently, they were the two things she always supplied him with when he visited her or she visited him. Cancer was eating away at him during that time and sadly we lost him last year.
When I was in good graces with the club, as the owner of their cherished bar, I got to know a lot of really wonderful people. I was invited to join them in Reno for their Spring National meeting in 2009 and I spent a lot of time with Dago. The following year I chaperoned her to the event. We shared a room and we laughed more than I can tell you. She talks like a ruffian, throwing barbs at every opportunity, but she really had a heart of gold.
[caption id="attachment_1351" /> My bartender Kat joined us in Reno for a great time.[/caption]
Our first day in Reno together was full of activities and partying. Dago was 79 at the time and I was amazed at how long she hung with the younger folks. She danced and had a few cocktails. Club members that wanted her autograph and wanted to hear her stories constantly surrounded her. By ten o'clock at night she was exhausted. I still had a little party left in me so I escorted her to our room. I got her settled in and made sure that she locked the door behind me. Then I went back downstairs to join the club in the bar, and I had quite a good time.
I wound up drinking Patron with some guys from our local chapter. I don't drink tequila shots as a rule. It's a bit of a brain eraser for me. I told my drinking companions that I was going to head back to our room and they insisted on walking me to the door. When we got there I suggested they come in and say hi to Dago. It was three o'clock in the morning, they reminded me. "She'll kill us," one of them said. "She will not. She'll be thrilled to see you," I told them. "You can have a beer and say hi before you head to your rooms."
So here I was taking four, large, tattooed, leather-clad, men into our tiny hotel room at 3:00 a.m. When I saw that Dago was sleeping I put my finger to my lips and said, "Shoosh" before handing them a beer from the ice chest. One of the guys decided to pull on Dago's toe. "What the hell do you think you're doing?" she shouted. She pretended to be irritated but it wasn't long before we were all laughing our butts off. "What kind of a crazy broad would bring four bikers to the room she's sharing with a 79-year-old lady," she asked. She ribbed me about it for the rest of the trip telling everyone what a crazy redhead I was. She actually told the story at every National event that I accompanied her to, and there were many. In the name of tradition, I often brought members of the club back to our room late in the evening at National events.
Dago was such an integral part of her club and I think attending the events gave her purpose. I am a fan of anything and anyone that is historic and as far as I'm concerned she is the most historically prevalent person that I have ever known. I began having her stay at my home in Hollister during the annual 4th of July weekend celebrations, motorcycle rally or no motorcycle rally. I was able to give her a lot more attention when the rally was canceled and I know she enjoyed those times more. I set her up with a table on the bar's patio where she could sell her calendars and t-shirts. He shook hands, shared hugs and visited with literally thousands of bikers from her spot there.
[caption id="attachment_1352" /> Dago loved to address her club at Nationals.[/caption]
I always had to stay at the bar later than Dago did and I left for work before she was out of bed. My husband made sure she had coffee and breakfast if she wanted it before he drove her to Johnny's. Tommy is a recovering alcoholic who wanted nothing more than for me to get out of the bar business. He didn't give a rip about biker clubs and wasn't slightly interested in Dagos tales. He let her go on, sometimes telling him the same story repeatedly so that she would feel appreciated. She never failed to bring him two loaves of "his favorite" zucchini nut bread. As her hearing diminished I know what a challenge it was for him to keep her company. I'm so appreciative that he took care of her for me. It meant the world to her.
Dago loved me a lot. But I could never hold a candle to her Heather. Heather lived close to Dago and she was her rock. You couldn't spend ten minutes with Dago without hearing something about Heather. The first year that we went to the Nationals in Dallas together, Heather flew to Dallas from LA with Dago and I met them at the airport from my flight from San Jose. Heather was staying with her man for the event and Dago and I were sharing a room.
Heather rented a car at Dallas International to take us to the hotel. As if the freeways with all of their construction weren't bad enough, Google maps took us to the wrong Crown Plaza Hotel. After being lost and zigzagging all over the place we finally found what we thought was the right hotel. Sadly, no one mentioned to Heather that the hotel was in Fort Worth, not Dallas. We were back on one of the many highways trying to find our way to the correct Crown Plaza and Google was not up to date with the roads changes. We wound up being on many different highways going in the wrong direction and having to double back and start all over again. Heather was frustrated and Dago was darn right pissed off at the entire state of Texas. I didn't blame them. I've never seen such a screwed up bunch of freeways in my life. I knew how Heather was feeling because I have no sense of direction and get lost quite frequently. I tried my best to lighten the mood by making the girls laugh. We finally arrived at the correct Crown Plaza Hotel after a three-hour tour of Texas highways.
I hate to say it, but this Crown Plaza did not deserve to carry such a prestigious name. It had seen better days. It was a bit run down but full of green and white vests, which lit Dagos face up like a Christmas tree. The National chapter paid for our room in Dago's name. I went to check us in and somehow we wound up with a single bed. That wouldn't have been a big deal but I was in the throws of menopause, with night sweats that had me tossing and turning all night long, throwing the blankets off and then freezing and throwing them back on. I didn't want to keep Dago up all night.
Dago wanted to be on the ground floor. They told us the room they had assigned us was the only one available on that floor. They offered to give me a pullout bed for our room. We agreed to the compromise and one of the bellhops rolled it to our hotel room. The room was so small that the folding bed could not even be opened all of the ways. I would have had to sleep with my body in the position of an L. We told the bellhop that it just wasn't going to work. It had already been such a long day. After spending hours driving to the hotel after a long flight and we were whopped.
We went back to the front desk and a couple of really nice club members offered us their room. We were so relieved. We got settled in and despite the hotel's deficiencies, we enjoyed a fun-filled weekend with the club. Dago sold all of her calendars and t-shirts and I sold a few of my books. After the fiasco we experienced on the way to the hotel, we left for the airport with plenty of extra time to return the rental car and get to our flight. Heather got behind the wheel and her honey sat up front with her. He was returning on the flight home with Heather and Dago.
Dago and I chatted it up in the backseat until the first time Google Maps took us in the wrong direction. Heather got irritated pretty quickly. She was tired, hung over and sick to death of the Texas highways and byways. Dago kept interjecting with backseat driver instructions and I could see Heather's stress level increasing. Without even realizing it, when Dago opened her mouth to offer more help, I slapped her on the arm with the back of my hand. "Hey!" she yelled. "You slapped me. She slapped me," she said leaning towards the front seat to tell on me. I apologized and whispered in her ear that Heather was stressed enough and that I thought the best thing we could do was keep quiet until we got to the airport. No one ever smacked Dago. She tried to act mad but we laughed about that one for quite a while.
We did a lot of laughing together on all of our roads trips. I'm proud to know that I became a character in so many of her stories. However, the thing I am most proud of is talking to her about Jesus. As years past I was able to see a softening in her heart that wasn't there when we met. Having to fight for survival for so many years caused Dago to develop a tough exterior. Being snappy and ornery was certainly part of her nature. The people that met her briefly or only hung with her at club functions found it very endearing and funny. When staying at her home and trying to help her, it sometimes got to be a bit much. I came to know her well enough to point out when she was being mean and she was quick to apologize.
I worried about Dago's physical health but her spiritual health was of the biggest concern to me. People who know me understand that I am a Christ follower. I talked to many people about God in my bar. I wasn't preachy, but when God opened doors of opportunity to speak to someone about Him, I walked through them. Whether it was stopping a man from killing another man, praying for a man with cancer or holding a woman's hand while she cried about the turn her life had taken and not knowing how to get it back on track, God used me at Johnny's to touch lives. It was my greatest joy in owning Johnny's, that and meeting beautiful people like Dago.
Those who know Dago know she cussed like a sailor. They say you can't teach an old dog new tricks but after Dago spent any length of time with me she cleaned up her language, a little. I went to Dago's house in Carson, California to spend time with her and help her out on three occasions. I wanted to write her story so my goal was always to get to know more about the woman, not the club. However, it was as if without the club, she didn't believe she had any value. There were some club members that highly cherished her and called her on a semi-regular basis. You folks know who you are and I hope you know how much it meant to her. When I spoke with her she was either elated because she just had a nice long telephone conversation with one of her fans or sad and lonely because she hadn't talked to anyone for days. Older people tend to exaggerate but I know that Dago was truly lonely. It's sad that the matriarch of a club of thousands could know such loneliness.
[caption id="attachment_430" /> Dago, me and Heather - July 2011[/caption]
The club member that was her friend, her helper and her advocate was Heather. I can't possibly describe how much she helped Dago and meant to her. Heather helped Dago with her banking and made sure all of her bills were paid. She wrote down doctor's appointments and checked on Dago daily. And Dago could not say enough about Heather. She trusted her with her life. She did what Heather told her she needed to do without much argument. I very seldom saw her get snappy with Heather. With me, well that's quite another story. I got to experience the sweet and grateful Dago as well as the ornery and cantankerous golden ager that would tear my head off for not knowing where the butter was in the refrigerator. I knew it was the scared little lady treating me that way, not the softhearted sweetie that often hid under the tough exterior.
Few people understood just how frightened Dago was about her health. However, she was one of the toughest women I have ever known. She told cancer to kiss her butt not once, not twice, but three times. I wasn't with her the first time she had cancer removed from her lung or when she lost a third of her tongue to that filthy disease. I'm very glad that I was by her side at the hospital after her second cancerous growth was removed from her lung.
I had planned a visit to Dago at her house after my writing conference in San Diego. I wanted to talk to her more about her history and get more of her story. As it turned out I arrived in Torrance the day she had her surgery. When I arrived in town I went straight to the Torrance Memorial Medical Center. Heather was there and she told me that Dago's surgery was successful and she was in recovery. However, I wouldn't be able to see her for a while.
I'd Googled a place to stay that was close to the hospital and thankfully had only booked one night. I'd never been to Torrance but assumed that a motel in the area of the hospital would be acceptable. Man, was I wrong! Picture a seedy motel that hooker's book for the hour to entertain their john's and crack heads stay for a night when they haven't burned up all of their funds on drugs. My room was on the second floor and there was no elevator. Of course, if there were one, I wouldn't have wanted to use it anyway. Since I'd been to a conference that required nice attire for a few days and I wasn't sure how long I'd be with Dago, I had a huge suitcase. Thankfully it had wheels but hauling it up the stairs was a major chore. The room was dark and smelled musty. I pulled the shades open to bring in more light but the illumination revealed things I didn't care to see. I immediately pulled the stain filled bedspread off of the bed and tossed it over the twenty-year-old upholstered chair that sat next to the small table under the window. I pulled back the sheets and even though they appeared clean I went back to my car to retrieve my own blanket and pillow. I'd packed some bedding because I wasn't sure if I'd be staying at Dago's house or the hospital and I wanted to be prepared.
I was totally creeped out and didn't want to spend any more time than necessary in the motel room. I'd had a long day of travel so a shower, even in a grungy bathroom, felt good. I put my suitcase on the bed and took out only the bare necessities. I knew I'd be making hasty retreat the next morning, despite having no idea where I would be staying. The back of my car in a better neighborhood would have been an improvement over this motel room.
I drove through a fast food restaurant for a bite to eat and headed back to the hospital. I was allowed to see Dago only briefly and she was pretty well out of it. I wasn't sure that she even comprehended it when I told her I'd be back the following morning. I wanted to get safely behind the locked door of my motel room before it got dark. I dead bolted the door, grabbed a book to read and climbed into bed wrapping myself in my own blanket. It was going to be a long night. I prayed fervently for God's protection and took two P.M. aspirin to help me sleep. After a very restless night, I was packed and out of the motel as soon as it was light outside.
When I arrived at the hospital I explained to the parking attendant that I might be staying the night with my friend in her room and he hooked me up with the perfect parking spot that was close to the elevator that would take me to Dago's floor. He gave me a pass that allowed me to stay in the spot as long as necessary and I was grateful. Despite the early hour, I found Dago awake when I arrived at her room. She was happy to see me but in obvious pain. I'd been with Dago in Arkansas at a National convention shortly after a third of her tongue was removed because of cancer and her resilience amazed me. Nothing could prepare me for the pain and misery she was experiencing. She had tubes attached to her body in numerous places and she looked more fragile than I had ever seen her. She had oxygen tubes in her nose, a chest tube, a catheter, and a tube in her neck for delivering medication. She was about as miserable as a person could be and I hurt for her.
She kept asking why it hurt so much and saying that this was so different from the first time they removed cancer from her lung. She asked repeatedly what the damn doctor had done to her. I've never felt so helpless in my life. There was nothing I could do for her besides hold her hand. And pray. I prayed so hard for God to relieve her of some of her misery. She seemed to feel better just knowing that I was there for her so I asked the nurse if it was possible for me to spend the night in her room. She pointed to the reclining chair in the room that had popup leg support and told me that I was welcome to sleep there.
I brought my computer and a book to read as well as my blanket and my pillow back to Dago's room. I had no idea how handy the blanket and pillow would be when I left my house. When Dago wasn't asleep she was suffering. She'd finally nob off and in a nurse would come into the room to take her blood pressure. They would flip on the blinding overhead lights and wake her up. "What is wrong with you people?" I finally asked. She's hooked up to all kinds of monitors. If she was in danger you would surely know. "Can't you leave her alone when she's sleeping?" I begged. Most of the nurses told me it was hospital policy but a nice one finally walked away stating that he could get her blood pressure later. When Dago did sleep she had nightmares. She woke up yelling more times than I could count.
Heather had taken a day off of work for Dago's surgery and had to work the following one. She was exhausted when she called me after work and I told her to go home and get some rest, assuring her that I was staying with Dago. I was so glad I did. I'm a light sleeper in the first place and with my legs hanging off of the chair I wasn't comfortable enough to sleep well anyway. In the middle of the night, Dago started to get out of bed. I woke to see her trying to stand up. She had gotten her legs on one side of the bed and had she managed to stand up there is no doubt that she would have landed on the floor pulling out her chest tube and who knows what else. I had to hold her arms to keep her on the bed while pushing the button to call in the nurse. I pushed it numerous times and no one came. I finally talked her back into bed and got her settled in readjusting her pillows and tubes so they weren't wrapped around her. When I was finished the nurse came in and ask if we'd rung for help. I was livid. "She would have been seriously injured if I wasn't here," I snapped at her. It took you ten minutes to get here after I pushed the buzzer. If I wasn't here she would have been lying on the floor and who knows when you people would have found her."
The nurse said that the bed alarm must not be working and she went to get a portable one to put underneath Dago's sheets. I held on to Dago so she could stand up while the nurse put the contraption under the bedding. "Now we'll be alerted if she tries to get up," she informed me. What the nurse failed to inform me of the ear-shattering alarm that was going to go off when Dago attempted to get up. I'd finally dozed off when Dago made another attempt to get out of bed and I'm sure I looked like some kind of crazy cartoon character with my arms and legs flailing around on my chair-bed. I was too startled to get off of the chair, my legs and arms thrashing like a swimmer out of the water. The nurse came in and turned on the bright lights and I was temporarily blinded. She moved to Dago's side and she had one leg off of the bed. She put her back in bed and told her that she needed to stay there. "You could have given me a heads up about the thundering alarm thing," I whined. She only glanced at me over her shoulder as if to say, "Yeah, whatever."
The next time the alarm went off I was more prepared for it. I hopped up from my chair and stood in front of Dago. I took her gently by the arms and told her that she couldn't get up because she had too many hoses attacked to her body. She wanted to go to the bathroom but I told her she had a catheter for that. She went on again about how much more pain she was in compared to the first time. I told her that when the nurse came we'd see what we could do about that. The alarm went off for five minutes before the nurse showed up. Once again, I was hopping mad. "What would happen to her if I wasn't here?" I asked. I can't remember exactly what the nurse had to say. She showed me how to turn off the alarm. I thanked God for bringing me there to look out for my pal. The third time the alarm sounded I stopped Dago from getting up and turned off the alarm. I got her tucked back into bed and the nurse never even showed up. My confidence in the hospital was about as low as it could get. With almost zero sleep the night before I managed to nap when Dago slept the next day. Heather and Dago's daughter came by to check on her in the afternoon. She was doing a little better but still quite miserable. I needed to head home the following day and hoped to see marked improvement before I left.
Dago was able to eat a little that day and was awake a bit more so we could visit but we both did a lot of snoozing. I told her that I would be headed home the next day and that I planned on leaving by 4:00 a.m. to avoid the horrible traffic. I have no idea how people deal with that congestion every day. I was even more appreciative of what Heather did for Dago at the thought. She worked hard all day and fought traffic and still managed to see Dago at her house on a very regular basis. Her dedication to Dago was nothing short of amazing. I can only imagine how the loss is affecting her.
Dago persevered through her second lung cancer surgery and was ready to travel to the next National convention. Those events meant so much to her. In fact, I think they gave her a reason to carry on.
[caption id="attachment_1356" /> Dago loved her fans.[/caption]
I visited Dago at her house for what I didn't know would be my final visit in January of last year. I was thrilled to do a little house cleaning for her and we cooked together a lot. I helped her to make many loaves of her famous zucchini nut bread. She had it down to a master without even measuring the ingredients. We'd planned to take some to Big Jim when we went there for a visit. I also cooked meals like corned beef and meatloaf that I could put in the freezer for her for easy preparation.
[caption id="attachment_1344" /> Dago making her famous zucchini nut bread.[/caption]
Dago was as sharp as a tack, I'm sure until the very end of her time on earth. I can get lost in my own backyard but she gave me great directions to Jim's house over a hundred miles away in Poway, California. She remembered the tiniest details of people's lives and could tell you the names of thousands of club members. She was totally amazing.
Since she always spoke of being lonely and having no place to go I thought it would be great for her to hook up with a local church. Churches are great about looking out for the elderly and I felt if she was involved in a local church it would give her something to do and someone close to look in on her once in a while. I was going to be at her house on a Sunday so I asked if she'd like me to take her to church while I was there and she agreed. I did some online research and found a church a few miles from her house. Once again her great sense of direction helped us find it when Seri's directions make getting there more difficult.
The church was situated in an industrial area and not very easy to spot. We found a parking place close to the front door and I got Dago's walker out for her. There were tables outside the building with young people seated at them passing out pamphlets about the local outreaches they did. Everyone was gracious and welcoming. I also noticed that so far, everyone was black. We got inside and headed towards a pew in the middle of the building. The worship team was playing warm-up music and it was obvious that they were talented. As we were walking Dago, leaned into my shoulder and said, "We are the only white people in this building." I took a quick survey of the room and found that she was exaggerating. We were indeed the only white people in the place. We'd taken our places at the end of the pew for an easy exit and I asked her if she wanted to leave.
She gave me a dismissive look and said, "No." It was as if she couldn't believe I was suggesting such a thing. I'd always wanted to attend a black church because when I've seen them on television they look to be less restrained. They tap into the power of the Holy Spirit with unabashed vigor. And they enjoy their worship music. It was true of this church but I didn't see Dago getting plugged in there. We enjoyed our visit but I knew she would not be returning.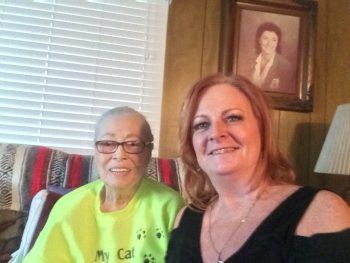 When I left Dago after my last five-day visit I wondered why I hadn't spent much time delving into her history. I'd prayed that it would be a fruitful visit and I believe that God saw to it that it was. We talked a lot about spirituality and reading the Bible for strength and inspiration. Dago showed me where the Bible I gave her was on her bookshelf and allowed me to make some bookmarks for future reading. I left her with a cleaner home, food in the refrigerator and freezer and a full heart. I'm so sad that I didn't get to hang out with her again before she went home to be with Jesus but I'm thrilled to know that is exactly where she is. We talked on the phone often, and she knew how much I loved her. I couldn't ask for more than that. I will miss her so much. I look forward to hearing her stories of Heaven when we meet someday on the other side. I know she's watching me from there and praying for me always.