Wow what a retreat we had. Saturday's Breaking Free From Emotional Bondage Retreat was too fabulous to describe. Breakthroughs were made, chains were broken and inner healing happened. I'm humbled and awed to have been used by God in such a powerful way.
Despite starting out a bit cool the weather cooperated and we enjoyed the tranquility of my yard for the event. The lovely ladies that came brought open hearts and minds. Their unabashed honesty about their life situations, trials and challenges was more than admirable. They understood the parable; the truth will set you free. It took true courage to expose all of those tender places. I'm so honored that my home felt like a safe place to do so.
My wonderful coach Sadie Martinez Calamaco was my prayer warrior. Her intuition about what to pray for and when, for each individual was phenomenal. She truly has a gift from God in that area.
[caption id="attachment_1003" ]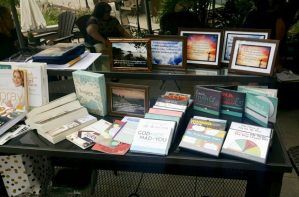 Everyone took home great tools and prizes.
I didn't get to half of my curriculum because I let Jesus take the wheel. How great it is to be able to let go and let God. Before my codependency recovery I would have insisted on staying on-point, which would have robbed us of rolling with God's plan. I am so grateful for my recovery and the life that I now enjoy because of it. That is why I became a coach and why more retreats like the one we just enjoyed will be in my future.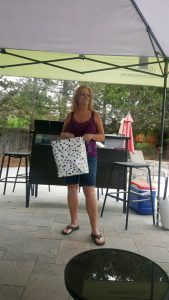 I look forward to helping my one-on-one clients, my group clients and those that attend the webinars and courses that I am building. Generational curses are broken, hearts are healed and relationships are restored when you give God control of your life. However, it isn't always an easy thing to do. Especially for codependents, who have made it their life's goal to fix everyone and everything. If you are exhausted from carrying the world around on your shoulders I can help.
Become a subscriber to stay up to date on blog posts, helpful hints, upcoming workshops and retreats and general encouragement.
Thanks and God bless, Charisse